There are plenty of parallel universes in Hollywood, and actors seem to jump around between them all time. They morph into different characters with ease, and most of time, they are almost unrecognizable in many of their roles.
As some of their transformations are so dramatic, you might refuse to believe that these fictional characters are the same person, but the chameleons of Hollywood will have you fooled.
1. Kate McCallister From Home Alone & Moira Rose From Schitt's Creek
Catherine O'Hara famously played Kate McCalister, a busy mom who completely forgot about her son when family took vacation in Home Alone. Her late-'80s/early-'90s style and hair were perfect. O'Hara's role might have been minor, but she can't be missed.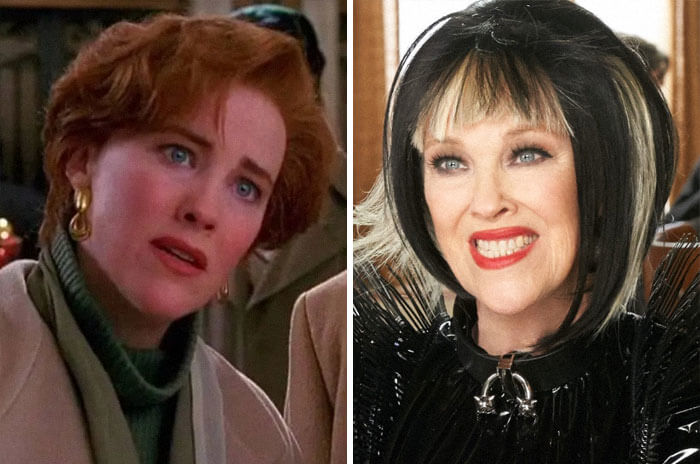 20th Century Fox In contrast, O'Hara plays Moira Rose in Schitt's Creek, and she is star of the show in her own little world. These characters might share same actress, but they are far from alike. Besides fact that they are both mothers, would you guess that O'Hara brought both of them to the screen?
2. Hal From Malcolm In Middle And Walter White From Breaking Bad
Bryan Cranston as Hal in Malcolm in Middle was an iconic role, but it is not what he is most known for. Most people recognize Cranston as Walter White from Breaking Bad, and these two characters are polar opposites in terms of lifestyles. They might be family men, but that is where similarities end.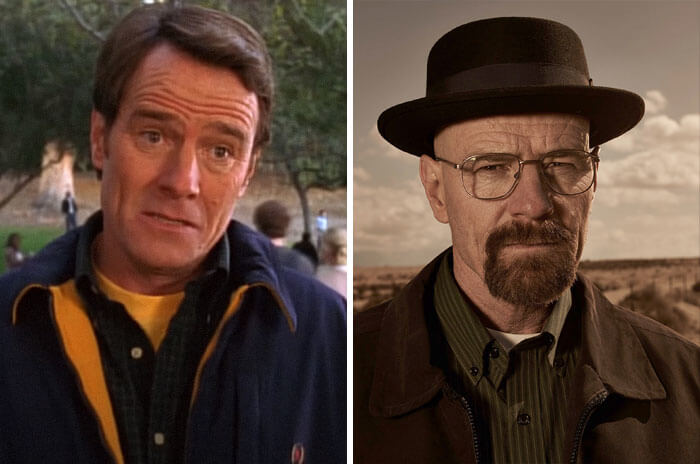 While Hal is goofy and dumb, Walter White is intelligent & serious because of his business. There were quite a few years between these two shows, so Cranston aged quite a bit, which makes it hard to think that he was the actor behind these two iconic characters.
3. Velma From Scooby Doo & Laura Barton From Avengers
Linda Cardellini might not be most popular actress, but she has played some memorable roles. In Scooby-Doo, she played nerdy mystery solver, Velma. With her thick black glasses & blunt haircut, she is hardly recognizable compared to some other roles she has played.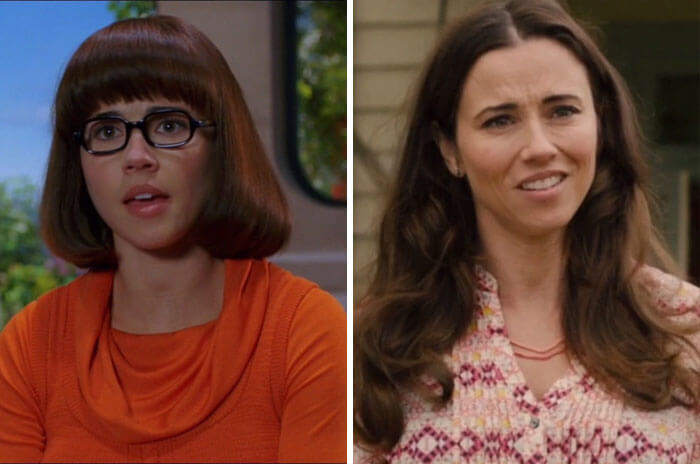 in Avengers, Cardellini plays Laura Barton. She is Hawkeye's wife and only been seen a few times throughout the movies, so people might not have realized she was the same actress as Velma. One thing we know for sure, Cardellini has aged very gracefully.
4. Elliot From E.T. The Extraterrestrial & Hugh Crain From Haunting Of Hill House
Considering there is a 40-something year difference between these 2 movies, also most people wouldn't see resemblance between 10-year-old boy & his 50-year-old self. In E.T. Henry Thomas plays Elliot & he was such a talented actor from his first days on-screen.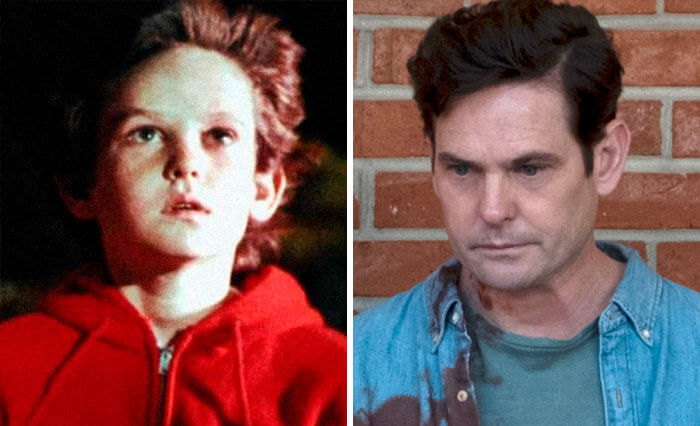 Fast forward 40 years & Thomas is all grown up, but he has not slowed down his career. In Haunting of Hill House, he portrayed Hugh Crain, and it seems that he loves roles in films with supernatural elements. Although there is a major age gap, you can almost see some of his youthful self in the present day.
5. Daisy From Downton Abbey & Drisella From Cinderella
Sophie McShera played Daisy in Downton Abbey and Drisella in Cinderella, but she had to change her entire look for one of the roles. Like Daisy, she was much more natural with minimal makeup & basic haircut, but Drisella's style made her almost unrecognizable.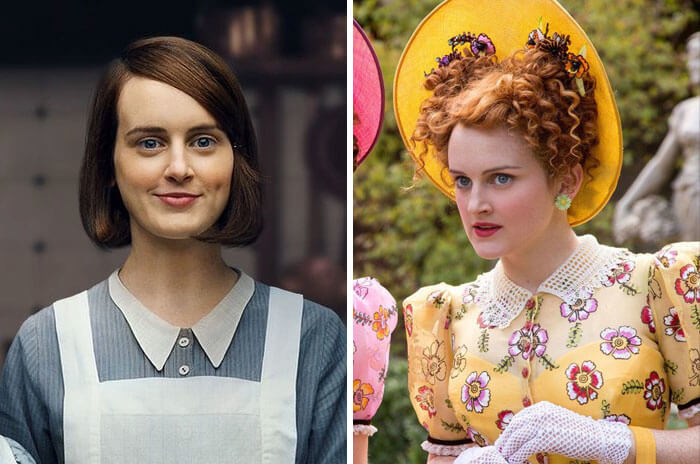 With her red curly hair and over-the-top outfits, McShera doesn't look anything like her regular self. She has one of those faces that can change for any role she takes on, & this is a perfect example of that. There are many other roles McShera played that you might not realize are her.
6. Jessica Day From New Girl & Jovie From Elf
Who's that girl? It's Jess!" In New Girl, Zooey Deschanel plays typical quirky girl that she is known for.
Whenever people do impressions of Deschanel, this is how they imagine her. So when you look back on movie Elf, it might take you an extra second to spot her.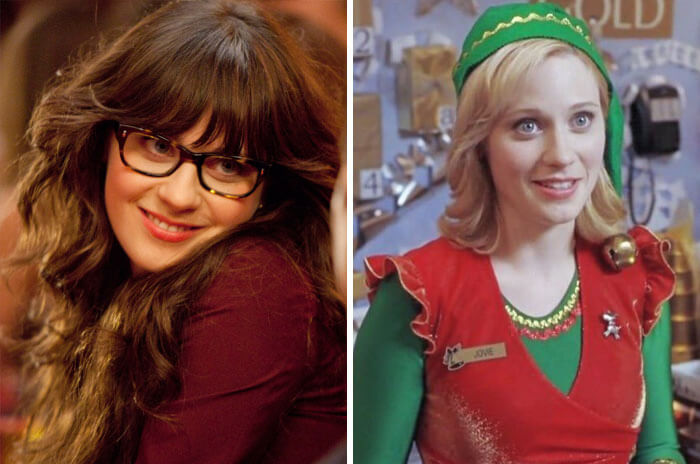 instead of her signature brown hair with bangs & glasses, Deschanel had la light blonde bob. Elf was also filmed before she had her big break, which makes it hard to remember her as anyone else besides Jessica Day.
7. Joyce Byers From Stranger Things & Kim From Edward Scissorhands
Winona Ryder is one of those actresses who knows how to bring drama. In Stranger Things, she played Joyce Byers, who everyone thinks is going crazy because she's only one who knows her son is still alive. Even when she was accepting an award for the role, she was still acting a bit looney.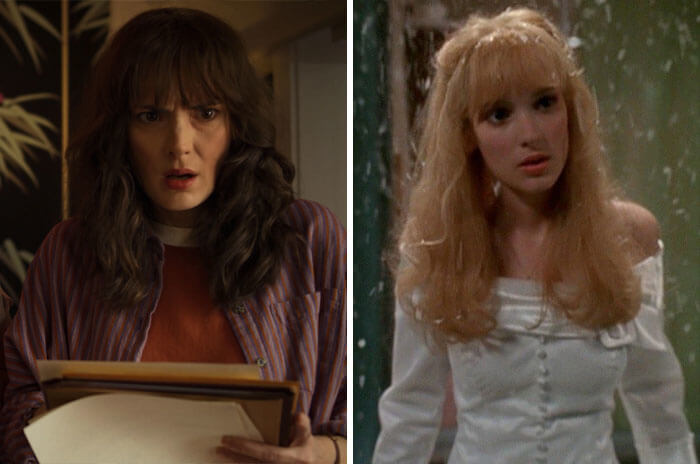 However, one of her most memorable roles was early on in her career as Kim in Edward Scissorhands. With long blonde hair & a much more youthful look, it's hard to compare these 2 characters. One thing that has never changed is her ability to bring a character to life.
8. April Kepner From Grey's Anatomy & Suzy Pepper From Glee
One of April Kepner's most memorable scenes on Grey's Anatomy was when she started telling her life story to hospital shooter so he would leave her alone because she saw someone do that on Oprah.
Sarah Drew will always be memorable for that scene, but did you know she also had a small part in another series around the same time?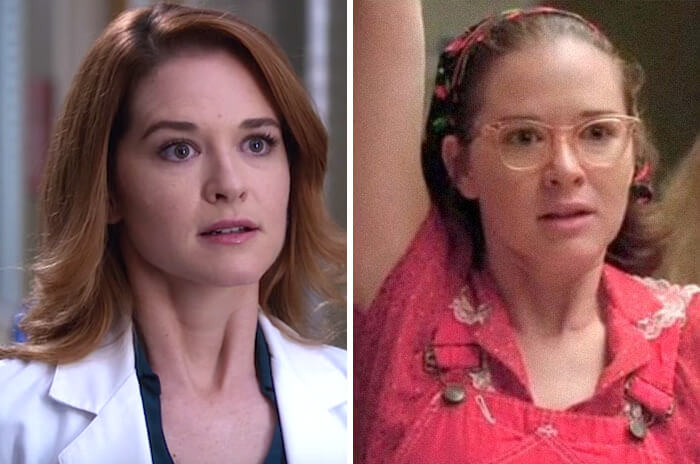 Drew was featured in one episode in the first season of Glee as Suzy Pepper.
She was in Will's flashback as the student turned stalker, who he rejected. Because it was such a minor part, most people didn't realize it was same actress who played April.
9. Voldemort From Harry Potter Series & M. Gustave From Grand Budapest Hotel
When Ralph Fiennes appeared on screen as Voldemort in Harry Potter, he didn't even look like a human.
With help of CGI and makeup, he transformed into someone that more closely resembled a snake. Most people didn't even know what Fiennes really looked like until they realized he had another significant role.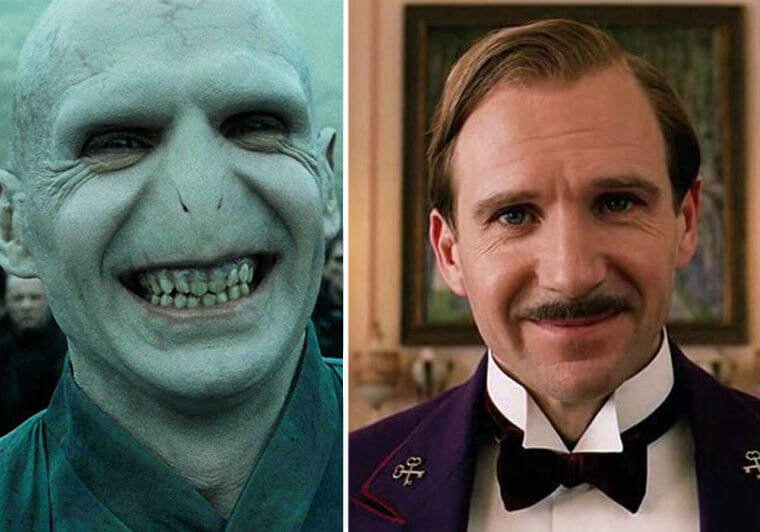 In Grand Budapest Hotel, Fiennes played M. Gustave, and he looked like human for first time. People refuse to believe that these are same actor because he transformed himself into a different creature for the role of Lord Voldemort.
10. Harry From Love Actually & Prof. Severus Snape From Harry Potter
late and great Alan Rickman was the character we wanted to like in Love Actually. Harry was loving husband when we first met him, but the beauty of another woman caught his eye and ruined his marriage.
Rickman might not look very different, but persona could not be further from Snape.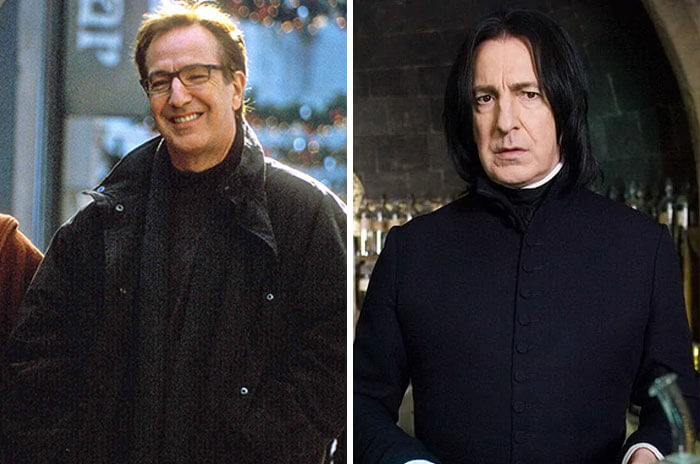 In contrast to Harry from Love Actually, Professor Snape is dark, cold, and doesn't show any kind of love until his final moments. Throughout Harry Potter, Snape scares you, but you end up liking him.
characters are polar opposites, and Rickman played them so well.
11. Mr. Tumnus From Narnia & Professor X From X-Men
In Chronicles of Narnia, James McAvoy plays Mr. Tumnus the faun. For role, he was transformed into this half-human, half-animal character who went from evil to good.
Because he is in such intricate costume with horns, ears, and hooves, it is hard to recognize McAvoy.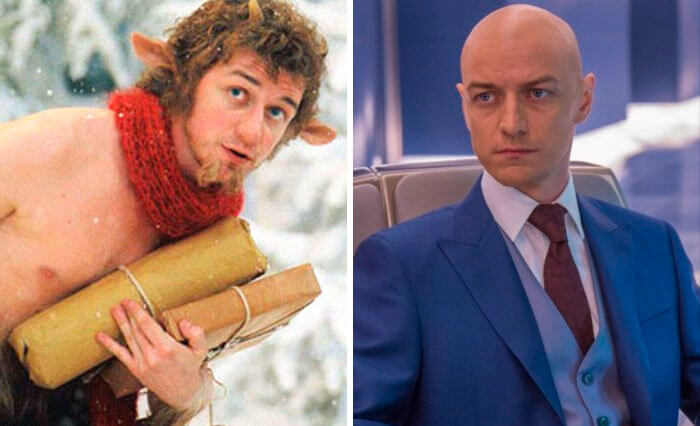 In contrast, McAvoy is instantly recognizable as Professor X in X-Men movies.
McAvoy has always been incredible at making himself fully realized character for each movie that he stars in, and these show how diverse he is when he steps onto a movie set.
12. Dudley Dursley From Harry Potter & Harry Beltik From Queen's Gambit
Little Dudley Dursley was just spoiled child with bad attitude & chubby pink face. As Harry's cousin in Harry Potter, Harry Melling didn't have significant role, but it made an impact on the story. However, once those movies ended, we all wondered what happened to him.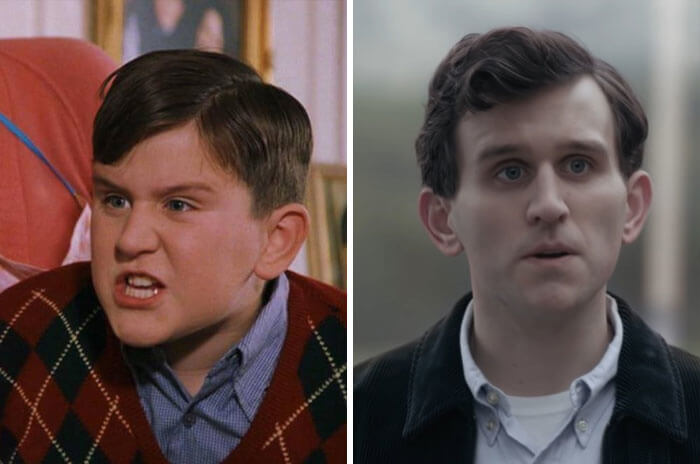 Well, years later, we finally got to see Melling on screen again, and he is all grown up & no longer that chubby little boy.
He traded his British accent for the southern one, and it's hard to think that these are same actor. However, there is something about it that still makes him recognizable.
13. Nanny Mcphee From Nanny Mcphee & Prof. Sybil Trelawney From Harry Potter
If you look at picture of Emma Thompson, you might convince yourself that she didn't play either of these characters.
In Nanny McPhee, she plays this ugly nanny who slowly becomes more beautiful as the children learn to behave. By final scene, Thompson looks like her beautiful self.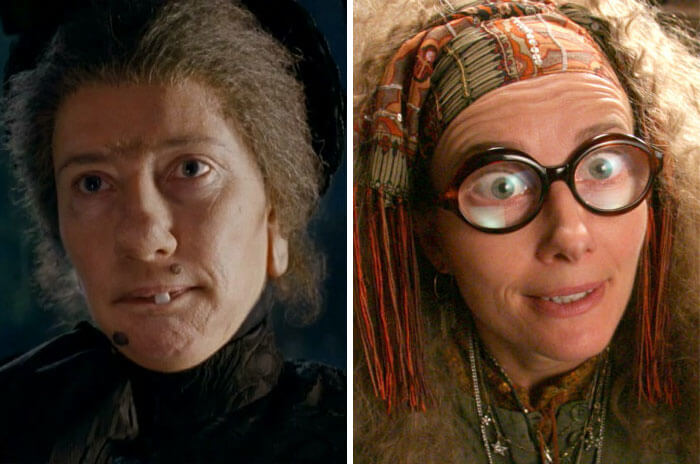 in the Harry Potter, Thompson is Professor Trelawney, divination teacher at Hogwarts. Although she doesn't look as strange as Nanny McPhee, she is certainly not normal. With her thick glasses & wild hair, Thompson is still unrecognizable. Maybe she is too beautiful to look like her real self in movie.
14. Poe Dameron From Star Wars Series & Apocalypse From X Men: Apocalypse
Oscar Isaac plays Poe Dameron in Star Wars series, and he is beyond handsome in these movies.
Isaac doesn't have any makeup or prosthetics in this role, so he looks like his usual self. However, for his role in X-Men: Apocalypse, he took on a much different face.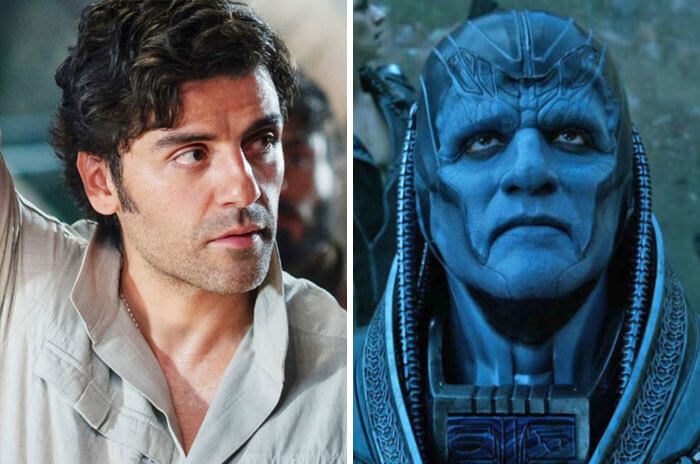 as Apocolypse, Isaac sat in makeup chair for hours to make his skin blue & change his facial structure entirely.
Unless you are huge fan of Isaac, most people don't realize this is the same actor as the man from Star Wars.